Op Instagram toont de Belgische Renaud Michotte zijn interieuravonturen, zijn aankopen en zijn opgeknapte meubelstukken. Woonde hij eerst in een fraai appartement in Brussel, een paar jaar geleden verhuisde hij voor de liefde van zijn leven naar het Italiaanse Como. Behalve zijn meubels nam hij ook zijn Franse inspiratiebronnen mee.
-> scroll down for the English text
Graag omringt Renaud zich met oude meubels en voorwerpen die hij dagelijks gebruikt – en waaraan hij fijne herinneringen heeft. Deze dierbare stukken mixt hij met een 'vleugje modern'. Daarvoor laat hij zich inspireren door grote decorateurs uit de jaren vijftig en zestig, zoals Henri Samuel, Georges Geoffroy en Madeleine Castaing.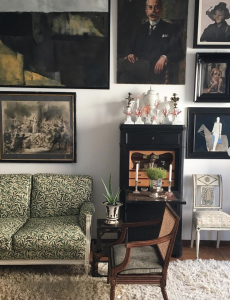 Waarom? 'Omdat ze ieder op hun manier antiek herinterpreteerden. Zo herintroduceerde Madeleine Castaing Napoleon III-meubels: ze combineerde deze stijl met antieke designs in een periode dat dit alles eigenlijk niet meer werd gewaardeerd,' vertelt hij per mail.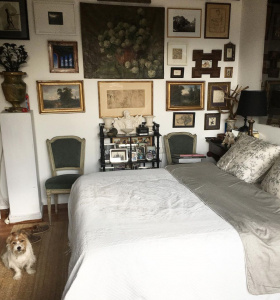 'Henri Samuel stond erom bekend dat hij Lodewijk XVI-meubels in ere heeft hersteld, maar dan gecombineerd met moderne stoffen en moderne meubels,' vervolgt Renaud. 'Dat is een aanpak die mij aanspreekt! Geen historische benadering als was het een museum. Mijn interieur moet persoonlijkheid uitstralen – en ik moet me er op mijn gemak voelen.'
Bezoek de webshop van Renaud en volg hem op Instagram.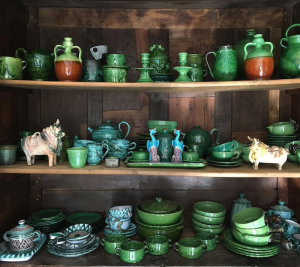 Take an inside look at an Italian interior with French flair
On Instagram, the Belgian Renaud Michotte shows his interior design adventures, his purchases and his furniture pieces refurbished by himself. He lived in a beautiful apartment in Brussels, but a few years ago he moved to Como, Italy, for the love of his life. In addition to his furniture, he took his French inspirations with him.
Renaud likes to surround himself with old furniture and objects that he uses every day – and to which he has fond memories. He mixes these precious pieces with a "touch of modernity". He draws inspiration for this from great decorators from the 1950s and 1960s, such as Henri Samuel, Georges Geoffroy and Madeleine Castaing. Why? 'Because they each reinterpreted antiques in their own way. For example, Madeleine Castaing reintroduced Napoleon III furniture: she combined this style with antique designs at a time when all this was actually no longer appreciated,' he tells by email.
'Henri Samuel was known to restore Louis XVI furniture to its former glory, but combined it with modern fabrics and modern furniture,' Renaud continues. 'That is the approach that I like! No historical approach as if it were a museum. My interiors have to exude personality – and I have to feel comfortable there.'
Visit Renaud's webshop and follow him on Instagram.  
© Tekst: Monsieur Plusfours 2021; foto's: Renaud