Het woonblad der woonbladen is toch wel World of Interiors. Afgelopen maandagvond, 24 juni jl., overleed Min Hogg, founding editor van dit iconische magazine.
-> scroll down for the English text
Min Hogg (1939-2019) studeerde samen met Terence Conran grafische vormgeving en begon haar carrière in de swingende sixties. Ze werkte onder andere als moderedacteur bij Harpers & Queen, met Anna Wintour als haar assistent. Tussen beiden boterde het niet echt, Anna wilde haar functie hebben. Later zou Min zeggen: 'Anna rightly suspected that fashion was not my passion'.  Scherp opgemerkt, want huizen en interieurs bleken Mins passie. Toch zou ze nog een paar jaar bij Harpers & Queen blijven – Anna was degene die vertrok.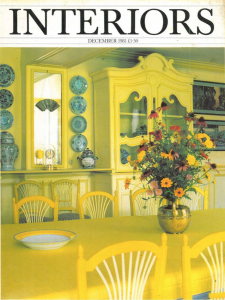 Instant succes
Een advertentie voor redacteur van een 'International arts and interiors magazine' trok haar aandacht en ze werd aangenomen. Vervolgens zou ze twintig jaar lang, van 1981 tot 2001, het blad leiden. Het was vanaf het begin succesvol  en trok vip-abonnees als Jacqueline Onassis, Paloma Picasso en Bill Blass.
Uitgeverij Condé Nast rook een cashcow (het blad trok veel adverteerders) en besloot het na twee jaar te kopen. Omdat de uitgeverij al een blad met de titel Interiors had, werd Mins magazine omgedoopt tot World of Interiors.
Bovendien sloot het goed aan bij een ander succesvol woonblad uit de portefeuille van Condé Nast: House & Garden. Bracht House & Garden interieurs die voor de lezer 'bereikbaar' waren, het up-market magazine World of Interiors bood de lezer op een serveerbaadje een droomwereld  aan.
Eclectische interieurs
Na het vertrek van Min in 2001 is opvolger Rupert Thomas dezelfde koers blijven varen. Onder zijn leiding verrast nog steeds elk nummer met bijzondere huizen. Huizen die afwijken van de (modieuze) standaardinrichtingen. In plaats daarvan opmerkelijke, smaakvolle, vaak eclectische en altijd inspirerende interieurs, van waar ook ter wereld. En vaak ook met een (lange) geschiedenis. Van kerk tot kasteel, van schuur tot paleis – alles kan in het blad.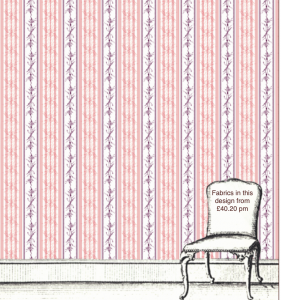 Zelf vertelde Min aan de New York Times dat ze het blad maakte om haarzelf 'een plezier te doen'. Dat deed ze ook nog eens op hoge leeftijd: ze begon een eigen behang- en stoffenlijn, geïnspireerd op afbeeldingen van zeewier.
The best interior magazine is without any doubt World of Interiors. On June 24 Min Hogg, founding editor of this iconic magazine, passed away.
Min Hogg (1939-2019) studied graphic design with Terence Conran and started her career in the swinging sixties. She worked as a fashion editor at Harpers & Queen, with Anna Wintour as her assistant. It did not conflict between the two, Anna wanted her position. Later Min would say: 'Anna rightly suspected that fashion was not my passion'. Strictly noted, because houses turned out to be Min's passion. Yet she would stay with Harpers & Queen for a few more years – Anna was the one who left.
Instant success
An advertisement for an editor of an 'International arts and interiors magazine' caught her attention. Long story short: she would lead the magazine for twenty years, from 1981 to 2001. It was successful from the start and attracted VIP subscribers such as Jacqueline Onassis, Paloma Picasso and Bill Blass.
Condé Nast publisher smelled a cashcow (the magazine attracted many advertisers) and decided to buy it after just two years. Because the publisher already had a magazine with the title Interiors, Min's magazine was renamed World of Interiors.
Moreover, it fitted in well with another successful interior magazine from the Condé Nast portfolio: House & Garden. If House & Garden provided interiors that were 'accessible' to the reader, the up-market magazine World of Interiors offered the reader a dream world.
Eclectic interiors
After the departure of Min in 2001, successor Rupert Thomas has continued the same course. Under his guidance, every issue still offers special houses which surprise. Houses that deviate from the (fashionable) standard furnishings. Instead, remarkable, tasteful, often eclectic and always inspiring interiors, from anywhere in the world. And often with a (long) history. From church to castle, from barn to palace – everything is possible in the magazine.
Min herself told the New York Times: 'I was doing something simply to please myself'. She also did this at a very old age: she started her own wallpaper and fabric line, inspired by images of seaweed.
© tekst: Monsieur Plusfours 2019
MELD JE AAN VOOR DE GRATIS NIEUWSBRIEF!